In Vitro Fertilization (IVF) market are growth of this market include growth in the median age of first-time motherhood, declining fertility rates, rising male infertility, rise in consumption of alcohol and cigarettes, and growing public awareness about infertility and the available treatment options.
MarketsandMarkets forecasts the In Vitro Fertilization Market to grow from USD 465.2 million in 2016 to 847.8 million by 2022, at a Compound Annual Growth Rate (CAGR) of 10.9%.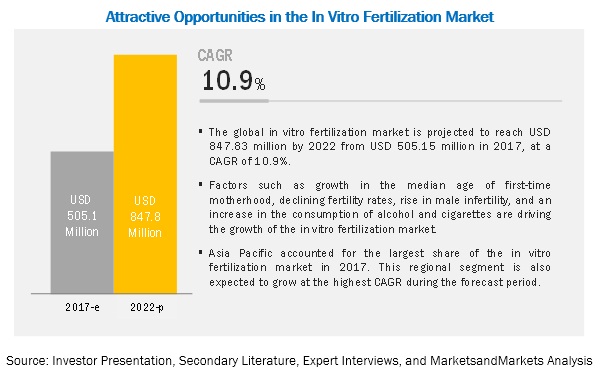 Over the years, the median age of first-time motherhood has increased drastically across the globe. This trend can largely be attributed to improved contraceptive techniques, late marriages, and the growing number of women prioritizing their careers over starting a family. Listed below are some important statistics in this regard:
In the US, the rate of first-time pregnancies in women under the age of 20 decreased by 42% during 2000–2014 [Source: Centers for Disease Control and Prevention (CDC)].
The median age of first-time mothers in the US increased from 24.9 years in 2000 to 26.3 years in 2014 (Source: CDC).
According to Eurostat, in 2013, around 40.6% of women in the EU gave birth to their first baby in their 30s.
In France, the average age of first-time pregnancies in women has also risen over the years and was found to be higher in women in their late 20s or early 30s (Source: United Nations Department of Economics and Social Affairs' World Fertility Report).
In Australia, the average age of first-time mothers increased from 27.8 years in 2003 to 28.6 years in 2013 (Source: Australian Bureau of Statistics 2015).
In women, the chances of conceiving decrease after the age of 32 and by the age of 40, fertility rates drop by half. Similarly, in men, between the age of 20 to 80, the volume of semen and sperm motility (the ability of the sperm to move towards an egg) decrease continuously. Moreover, women delaying pregnancy are at a higher risk of health problems associated with pregnancy after the age of 40, including low birth weight, miscarriage, fetal abnormalities, preterm delivery, prolonged labor, and maternal morbidity.
As the median age for first-time motherhood keeps increasing, a growing number of women are expected to face difficulties in conceiving naturally. In this scenario, an increasing number of women are forced to opt for IVF treatments, which is expected to drive the growth of this market in the coming years.
Get More Information @
https://www.marketsandmarkets.com/pdfdownloadNew.asp?id=89198891
High cost and low success rate of the IVF treatment
Thousands of cycles of in vitro fertilization (IVF) are performed every year, globally. However, the high cost of IVF procedures is a major factor that limits the adoption of In Vitro Fertilization treatment. According to the Institute for Health Policy Studies, University of California, in the US, multiple births occur after 39% of IVF cycles, whereas in Europe, the figure is 26%.
The American Society for Reproductive Medicine (ASRM) lists the average price of an in vitro fertilization (IVF) cycle in the US to be USD 12,400 where the average cost of an IVF cycle with the use of fresh embryos is USD 8,158, and the median cost is USD 7,500 in the US. Moreover, the cost of the treatment drugs is also high, at an estimated USD 3,000–USD 5000 per cycle.
In addition, the probability of birth following the treatment is comparatively low. The success rate of IVF treatments is just 28% to 35%, which decreases with the age of the woman. For example, the success rate is 32.2% for women under 35, 27.7% for women aged 35 to 37, 20.8% for women aged 38 to 39, 13.6% for women aged 40 to 42, 5% for women aged 43 to 44, and 1.9% for women aged over 44 (source: BabyCenter LLC and National Health Service, UK). Owing to this, couples have to undergo multiple IVF cycles, which adds up to the overall cost of the treatment.
The cost of In Vitro Fertilization treatment varies from country to country due to lack of reimbursement policies. Additionally, insurance companies do not generally cover the cost of infertility treatments. According to the National Infertility Association, in the US, fertility treatment is covered by only 25% of insurance plans, and many of them do not cover the expenses for the IVF treatment.
In India, IVF or infertility is not considered a health issue; hence, it is not covered under general insurance. Thus, the high cost of assisted reproductive techniques to treat infertility and the lack of insurance coverage for the treatment is restraining the growth of this market.
Get More Information @
https://www.marketsandmarkets.com/pdfdownloadNew.asp?id=89198891
Fertility tourism
Asia is one of the most preferred destinations for medical care. One of the major factors driving the medical tourism industry in Asia is the low cost for high-quality healthcare facilities delivered by doctors and surgeons trained and educated in the top institutes in the US and Europe.
According to a survey conducted by the International Federation of Fertility Societies in 2013, there are more than 600 IVF clinics across India. In addition to the availability of advanced healthcare facilities, the cost of an IVF cycle in India is around 70% lower than that of some developed countries.
According to the American Society for Reproductive Medicine, an average IVF cycle in the US costs around USD 12,400, whereas the costs drop dramatically to USD 3,000 in India and USD 4,000 in Thailand. Thus, the low cost of the procedure and quality healthcare facilities in Asian countries will create growth opportunities for the IVF market.
In addition to low treatment costs, coupled with high-quality treatments, the presence of liberal laws regarding the IVF treatment is also driving fertility tourism in emerging Asian countries such as India and Thailand.
For instance, Thailand is attracting couples for IVF treatment because of its liberal IVF regulations such as gender selection of the embryo before implantation, whereas IVF is banned for couples with a certain number of children in China and the IVF technology is entirely banned under all circumstances in Costa Rica. Also, clinics in India are permitted to transfer six embryos simultaneously, whereas clinics in the UK are allowed to implant two embryos.
In the European region, Spain is the preferred destination for IVF as the country has liberal laws regarding the treatment, with shorter waiting lists and higher success rates compared to other European countries.
The research report categorizes the IVF to forecast the revenues and analyze the trends in each of the following sub-segments: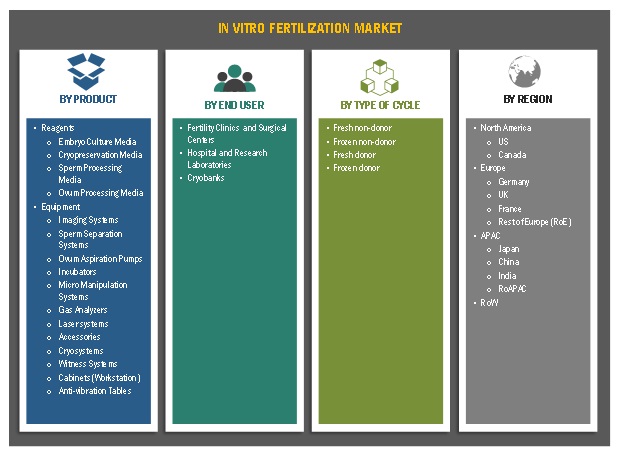 Key Players of In Vitro Fertilization Market
CooperSurgical, Inc. (US), Vitrolife AB (Sweden), Cook Medical, Inc. (US), Irvine Scientific (US), Thermo Fisher Scientific Inc. (US), EMD Sereno Inc. (US), Genea Limited (Australia), Esco Micro Pte. Ltd. (Singapore),  IVFtech ApS (Denmark), The Baker Company, Inc. (US), Kitazato Corporation (Japan), and Rocket Medical Plc. (UK)
Get More Information on In Vitro Fertilization Market @ http://bit.ly/2XindQY
I consult businesses as a Corporate Communicator where I help companies about the growth of the healthcare market and solve their companies growth and research challenges through my creative marketing strategies. Reach out to me in case you have something I can help with.